Custom Songs
Do you know someone having a special birthday, retirement or other celebration?  Marc can write a song especially for that special event by changing the lyrics of the song, My Way, to capture the life of the honoree.
Adele Aletti Retirement Party
Above is the version Marc created to celebrate the retirement of Adele Aletti long-time owner of Gone Bonkers on Flagler Avenue.
Ed Lange's 80th Birthday Party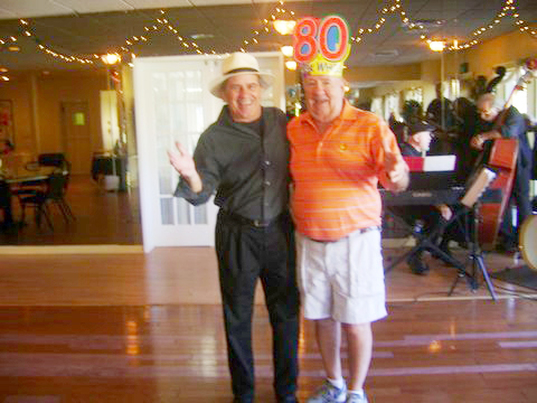 party at Hidden Lakes, New Smyrna Beach. November 29,2014
Dear Marc. Thank you so much for such a memorable occasion. Both my Dad and Mom so enjoy you, the band and your music. The song about his life was perfect. It got everyone's attention, especially my dad!Jeanne Bush, daughter of Ed Lange
WOW!!! Marc- that was AWESOME!! That is actually "his" song according to my mom. She always said she would play it at his funeral because that's how he lived his life. You did a wonderful job with the information I provided, not a dry eye in the place! Thank you for offering to do such a special thing. Thanks again. …Cyndy McCormick, daughter of the birthday celebrant, Bookie
Party at SoNapa January 18, 2014