Who is Marc Monteson
Marc Monteson has a reputation as being a long-standing stakeholder with all things New Smyrna Beach as he continues to create, promote and conduct events that showcase the city. For almost 30 years, Marc has provided services for individuals, non-profits and businesses in our beautiful little beach town.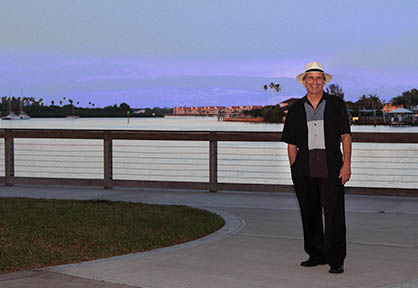 Accomplishments
In October 1992, Marc started and managed, for one year, the original New Smyrna Beach Farmers' Market. The market officially opened on October 3, 1992 and has grown to be one of New Smyrna Beach's premier venues and features produce from local farmers plus many other local delights and treasures.
---
In the late 1980's Marc was a Founding Member of New Smyrna Beach Mainstreet. This Canal Street group put on various events, including concerts in the Park with music and entertainment that he provided. Marc was named NSB Main Street, Inc. Member of the Year 1990-1991 for outstanding service and dedication.
Concert in the Park Rosie O'Grady's Goodtime Jazz Quartet
featuring Red Hot Mama Ruth Crews, October 15, 1993
---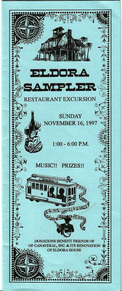 From 1993 to 1997, Marc coordinated the Eldora Sampler for the Friends of Canaveral which included musicians on the Votran trolley.
On Saturday, May 22, 1999, the Eldora State House with renovations complete was dedicated to the community. Marc re-wrote the lyrics to the song " A Hundred Pounds of Clay" (A Hundred Year Old House) for TC Wilder and the Friends of Canaveral.
Marc Monteson Promotions (MMP) was formed in 2001 when Marc started the first New Smyrna Beach Jazz Festival. This event began by Marc taking action on an idea the Merchants of Flagler Association had for creating an event to help bring traffic to local businesses during the slow time of the year. Now this has become one of the premier events in Central Florida. In 2014, the Festival grew to 24 venues with visitors from 10 states, including Florida.
*MMP also serves as a booking agent for entertainers, musicians and singers of all styles.
---
Marc's other accomplishments include: assisting the City of New Smyrna Beach by providing music and organization for special events. He has been the Entertainment Chairman of the annual juried, acclaimed arts festival, Images, a Festival of the Arts. Marc is also the Coordinator of the Downtown Music Festival on Canal Street.
"Marc, Thank you for once again providing Images with great entertainment. It was better than ever. I don't know how you do it, but then again, that's why I'm not a music promoter. You do a great job and are greatly appreciated. Thank you also, for helping to distribute the festival's posters.
You do, indeed, wear many hats!" Betty McNamara, Images Chairperson, 2008.
Marc also sings with his band, The Marc Monteson Quintet, which plays at local/regional restaurants, country clubs and concerts.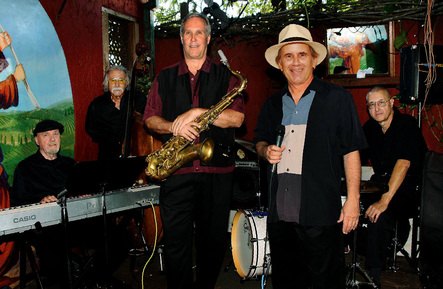 Marc performs solo for parties at various condos in New Smyrna Beach and Daytona Beach Shores. Contact Marc to schedule him for one of your upcoming events. He also customizes the words to the song, My Way, and sings it to the celebrant of special parties.
Marc's weekly email newsletter is sent to subscribers every Friday with a listing of concerts, entertainers and venues around Central Florida.